Using data-supported solutions for improving business performance
Analytics: Optimizing Big Data Certificate — WILMINGTON, DEL. — Feb. 17-May 18, 2020
Course fee: $2,895. Payment plan, discounts available: Early registration, Military, UD alum, PMI member, 2 or more (group). Meets Mondays, 6-9:15 p.m. CEUs: 4.5, or 45 contact hours.


In today's business world, data is easier than ever to collect and store. While the management of this big data is increasingly important to the decision makers in the organization, big data is ever more difficult to analyze.
Analytics professionals or data scientists are invaluable to an organization's success. They have the unique combination of computational, analytical and communication skills necessary to discover data-supported solutions to important business questions, from an ever-increasing wealth of data.
---
Analytics: Optimizing Big Data Certificate leads to new career —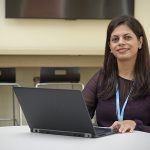 Sambhavi Parajuli's project, "Prediction of survivability rate of breast cancer patients," played a major role in helping her land a job with Delaware Health and Social Services (DHSS) as an analytics consultant for IBM Watson Health. Read the full article.

---
Course Outline
This program introduces students to the tools needed to analyze large datasets in order to make more informed business decisions. Students learn to gather and organize data for more effective analysis and how to communicate their analyses in a clear and concise manner. Topics include:
Importing data into an analytics software package
Performing exploratory graphical and data analysis
Building analytics models using tools such as multiple regression and decision trees
Finding the best model to explain correlation among variables
Learning how to control and assess data variability to better meet customer requirements
To earn the Analytics Certificate, all of the following modules must be successfully completed with a grade of "C" or above:
Analytics Basics
Big Data Tools
Process Control and Capability
Individual Project
Learner Outcomes
Analytics Basics
In this module, students will be introduced to the basics of analytics by learning key terms, concepts and knowledge areas and the use of SAS JMP analytics software. At the end of this module, students will be able to:
Navigate JMP Software
Input data from various spreadsheets and databases
Perform graphical exploratory analysis
Compare two or more groups
Analyze paired data
Use regression analysis to quantify the relationship between two variables
Create and analyze a designed experiment
Big Data Tools
In this module, students will learn how to use big data tools to understand correlation among many different variables. At the end of this module, students will be able to analyze large datasets and build analytical models to predict future performance using the following multivariate tools:
Neural Networks
Partial Least Squares
Principal Component Analysis
Decision Trees
Multiple Regression
Cluster Analysis
Discriminant Analysis
Process Control and Capability
In this module, students will learn how to evaluate if a process is stable and its ability to meet customer requirements. Students will also learn how to evaluate a measurement system's performance and variability. At the end of this module, students will be able to use the following tools:
Process Control Charts
Process Capability Analysis
Measurement Systems Analysis
Project
As a final requirement of the certificate, students will apply the concepts and techniques learned throughout the course to a case study project. The project will incorporate the use of a current data problem the student would like to solve, which will be approved by the instructor. Guidance in completing project milestones is done throughout the program.
Notes
Who should consider this program?
Business, marketing and operations managers
Data analysts or professionals in any field who deal with large amounts of data
Financial industry professionals
Small business owners
Prerequisites
While there are no formal requirements for admission to this program, please note the following recommendations:
Statistics background—The course uses statistics throughout the curriculum. A basic understanding of statistics is recommended but not required.
Some prior college coursework is recommended, as the modules are taught at the baccalaureate level and are fairly rigorous.
Prior experience with data management is helpful.
Study and class preparation—Most students have said that for every hour in class, they spent one to two hours outside of class studying and preparing for class.
JMP® Pro statistical analysis software will be used in the classroom.
Technology requirements
A fully charged laptop (PC or Mac) is required to participate in this class.
A copy of JMP® Pro statistical analysis software is included with this program, and the software is compatible with both Mac and PC.
Testimonials
"The ability to think conceptually about big data has been enormously helpful in transitioning to a new job that I was able to get during the course of the program." - Patrick Caruso
"This course has gone a long way in simplifying my workload and showing quick results to my internal customers." - Amogh Prabhu
"There is an explosion of data that can be found in every industry and government agency around the globe. The trick is to be able to take this data and turn it into information to drive better decisions." - Joe Messick

Instructors
Steven Bailey, Ph.D.
Steven P. Bailey was with DuPont's corporate Applied Statistics Group for over 36 years, until his retirement as a principal consultant in 2016. Dr. Bailey led DuPont's corporate Six Sigma Master Black Belt Network for his last 16 years with DuPont.
Dr. Bailey is a Past President and Chairman of the Board of the American Society for Quality (ASQ), and he is certified as a Six Sigma Black Belt and Master Black Belt by both DuPont and ASQ.
With the University of Delaware, Dr. Bailey is a past adjunct faculty member in the Department of Mathematical Sciences, and since 2012 he has been an instructor in the "Analytics: Optimizing Big Data" non-credit Certificate program offered by UD's Professional and Continuing Studies. Dr. Bailey received his B.S., M.S. and Ph.D. in Statistics at the University of Wisconsin. Dr. Bailey currently provides statistics and six sigma training and consulting services for a variety of businesses.


Aaron Owens, Ph.D.
Aaron J. Owens retired in 2015 as a senior research fellow with the Decision Analytics group at the DuPont Company. That group uses analysis of big data as well as quantifying uncertainties to aid in making important business decisions.
Aaron holds a B.S. with Highest Honors in physics from Williams College (1969) and M.S.(1971) and Ph.D. (1973) in theoretical physics from Caltech. Following several years of teaching and astrophysics research at Lake Forest College, Kenyon College, and the University of Delaware, he joined DuPont in 1980. He specialized in mathematical modeling of chemical systems, color modeling, supercomputing, and was the Technology Leader of applied statistics. He founded DuPont's data mining efforts, developed the company's proprietary neural network technology, and adopted chemometric methods for process modeling. Currently he does free-lance consulting on data mining, chemometrics, and applied statistics for the chemical and pharmaceutical industries.


Carmen Traxler

Carmen Traxler is president of STAT-TRAX, Inc., a company she founded in 1994. She consults and provides training for a variety of industries in the areas of six sigma, performance improvement, design of experiments, general statistics, and statistical process control. Prior to STAT-TRAX, Carmen was employed by the DuPont Company and applied data analytics to significantly impact business performance. Carmen holds a B.A. in Mathematics and a M.S. and a.b.d. Ph.D. in Statistics.
For More Information